BANANA CAVE BED FOR CATS AND DOGS
Every cat requires a spot to sleep that's not there designated be, such as a shoebox, a large vase, or a cupboard. Though chances are, if you buy your cat a bed that's weird enough, they might sleep in it! Which is hopefully what our Banana Cave Pet Bed will achieve!
Cool, cute, and fun! Banana Cave Pet Bed is soft and warm for those cool nights and a great place for your pet to be comfy! Pets LOVE this bed it gives them a comfy place to retreat and relax.

It comes in 4 different sizes depending on your needs. Ranging from a small banana bed that measures about 16 inches long, to an extra-large banana bed that measures around 34 inches long.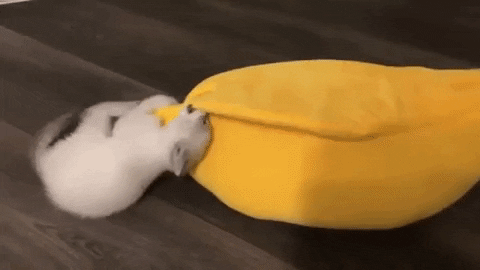 "My cat loves her new bed!! She climbed right in and hasn't moved!"
— Kimberly N., Zuiry customer
"I love this bed & my little cat loves it too.The banana cat bed is so so so cute and soft! My cat Nickle jumped into it right away when he saw the banana cat bed and he likes to jump in and out. And the cat bed is easy to carry. It is can be folded in the luggage. I can take it with us for a travel."
— Bella I., Zuiry customer
CREATES A CUTE, COZY AND WARM SPOT FOR BOTH CATS AND SMALL DOGS
Banana Bed provides an extra cozy and warm spot for your cat or small dog on a cold winter day. It features a banana peel that allows your cat to sneak in and out while still having the privacy they require. Just peel open the top layer of the peel to sneak a peek at your fur baby snoozing inside.
Banana Bed works great for both cats and small dogs and is made from super soft plush fabric with 0.75-inch thick sponge padding between the fabric.
Material: Coral fleece cave bed, moisture-proof oxford fabric bottom.
Features a peelable banana peel that allows your cat or dog to sneak in and out while still having the privacy they require.
Length / Width / Height / Pet Weight

S: 16″ (40cm) / 6″ (15cm) / 4″ (10cm) / up to 7 lbs (3kg)
M: 22″ (55cm) / 8″ (20cm) / 6″ (15cm) / up to 13 lbs (6kg)
L: 26″ (65cm) / 10″ (25cm) / 7″ (18cm) / up to 22 lbs (10kg)
XL: 34″ (85cm) / 12″ (30cm) / 8″ (20cm) / up to 44 lbs (20kg)