Hate when people barge into your room without knocking?
With our Portable Door Lock, you will now have an easier way to instantly secure any door to keep the trespassers away!
Do you travel often? Or maybe you don't trust your door's old flimsy lock? Perhaps there's been a few break-ins in your neighborhood lately? This door lock is portable and it can easily be installed and removed in seconds on any door. It's all you'll ever need to feel safe again. 
FEATURES:
Easy to use: Inserting the lock's "claws" into the door frame's strike plate makes it out of reach from the outside. The red handle is another essential part of the lock with a built-in metal rod that inserts at the lock's triangular hole. It slides and locks into place to be wedged against the door.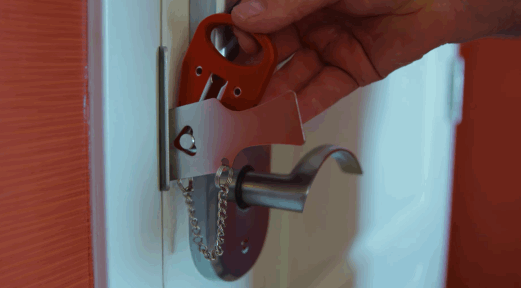 Works for any door: The portable door lock will fit most doors that swing inward. It is also a convenient lock that can be used in emergency cases such as lockdowns and raids at places other than your house, or even at sleepovers. Having it at home is also a must especially when you're alone or when you live alone.
Protect yourself anywhere: Use it at home or take it with you when you travel. It's great if you are staying at an AirBNB or any other short term rental places.
Emergency safe: You may be wondering… "but what if there is a fire and I need to get out as soon as possible?"  Unlocking the device is as easy as ever. Simply release the red latch from the metal compartment by pressing down and pulling it upwards. It literally takes just a second.