Moisturize your Skin & Disinfect your valuable stuff anytime, anywhere!
Enjoy the refreshing mist any time at the office, on flights, outdoor, at the dressing room, and so on.
THE PORTABLE MIST SPRAYER
Adopted ultra-high-speed vibration technology, split water into tiny nanometer particles to make the effective component penetrate into the skin and deeply hydrating without ruining makeup.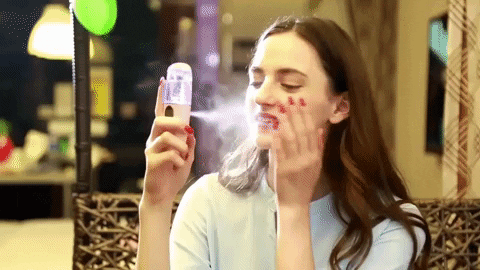 Beauty Purpose
Moisturize and Refresh your Skin:

 

This Portable Mini Mist Sprayer is used for face, body, hair, and other position. Suitable for all kinds of skin.Perfect for keeping your face hydrated and healthy.
Large Capacity for Long Time Cool:

 

30ml water storage can be used about 16 to 18 times. No need to fill water frequently. This handy facial steamer makes you feel relaxed and cool on a hot day and helps skin stays hydrated during summer season.
Restore Skin Vitality:

 

Using a facial mask and facial massage will stimulate the skin after sunburn. Pores open or skin feels painful and itchy. Turn on the product for a few minutes, the skin will recovery fastly.

Versatile: 

Suitable for all kinds of skin.
Health Purpose
Protection:

 

from Bacteria, Dirt, and Viruses (Ex. COVID19, SARS, HEPA, etc.)
Creating a safer working environment: for medical staff and the patients
Avoidance of common eye infections
Obstruction of respiratory tract infections:

 

Regular Spraying of the hands will remove these germs easily, keeping you safe.

Others
USB Rechargeable and Easy to Use:

 

No battery required. USB charging is convenient and energy-saving. Just fill the mist sprayer up with water, push down the switch, and then it automatically sends out a nice mist.

Portable: Can carry everywhere just put it into your pocket and go.
PRODUCT MAINTENANCE
After use, clean the surface of the product with a soft damp cloth and wipe it dry

Do not use essential oils, gasoline, or corrosive cleaners to clean plastic 
Do not use during the charging time
Maximum Charging time is

 

30 Minutes Only. Above 30 Minutes of charging it may cause

 

overheating of the sprayer.
PRODUCT SPECIFICATION:
Material: ABS.
Tank capacity: 20ml/30ml
Charging time: about 30 Minutes
PACKAGE INCLUDED:
1 * Handy Mist Spray
1 * Charging Cable
NOTE
Remove Water/Alcohol While charging